BBC Proms with Marin Alsop – Reviews
Fri Oct 4 2013
Close
GET LINK
As the summer draws to a close and our new season begins, we look back at some of the reviews form our appearance at the BBC Proms with Marin Alsop.
'70 minutes of music seemed to pass in a single unfolding arc.'
**** The Guardian
'Although media attention has been focussed on Marin Alsop as the first woman to conduct the Last Night of the Proms (and about time too), history was also being made at this, her first concert at this year's festival, as Brahms' Ein deutsches Requiem was receiving its first performance here on period instruments. The results were revelatory.'
***** Music OMH
@PCMusicDept – Awesome night at the BBC proms in London last night!!! Brahms Requiem, with the OAE and Marin Alsop.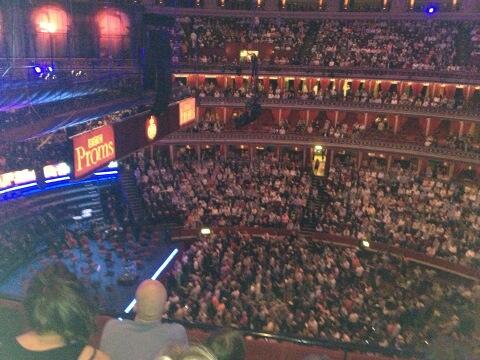 Alsop has been quoted as saying that Brahms' Requiem is "an affirmation of life: it offers a very holistic, inclusive answer to those existential questions about what happens after this life, and where do we go." There were indeed some life-affirming moments. The beguilingly repeated subjectless sentence fragment "selig sind", which book-ends the work, had exactly that rapt magic.'
*** the artsdesk.com
'Is there a conductor alive who so winningly generates momentum? When Marin Alsop conducted the Orchestra of the Age of Enlightenment at the Prom on Saturday, the opening chords of Brahms' Tragic Overture almost punched holes in the air. Tension never sagged, always coloured by the characterful tones of period instruments. Sinuously graceful strings, piquantly clear winds, brass both rude and refined; the same aural qualities reigned supreme in Schumann's Fourth Symphony, driven forward by Alsop's smiles, clear beat and swaying hips.The glory work, through, was Brahms' German Requiem. The individual timbres, of wind and brass gave extra gravity and beauty to the composers's meditations. Alsop's speeds stayed flexible and humane. There was nothing of the cold sarcophagus here, especially with the Choir of the Enlightenment, so warm, secure and untiring.'
**** The Times
'Brahms's German Requiem after the interval was 68 concentrated minutes of emotion…This was a choral piece, with the Choir of Enlightenment spurred on to ever greater heights by an almost incandescent Alsop.'
***** Sunday Express